This article is under the scope of the Miscellaneous Cleanup Project and has yet to be cleaned up to a higher standard of quality. It may contain errors, spelling, grammar and structure issues, or inconsistent formats. Reader's discretion is advised until fixing is done.


You can help clean up this page by correcting spelling and grammar, removing factual errors and rewriting sections to ensure they are clear and concise, and moving some elements when appropriate.

Merging
This article has been nominated for merging with: Possible list of video games page
Because: Would work better on a list of video games page
Please discuss this article's possible merging here.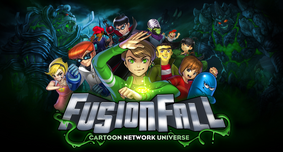 Cartoon Network Universe: FusionFall was an MMO game based on the Cartoon Network Universe. On October 19, 2011, a picture of a Mordecai nano appeared hinting his nano will come out soon with a code. On November 21, 2011, Mordecai's nano was released.
Gameplay
You and other players from across the universe need to battle the evil Lord Fuse and his minions of Fusion monsters cloned from your favorite heroes from the Cartoon Network Universe. FusionFall is a very standard MMO: you have leveling, the nanos (which give you extra abilities) like healing or damaging a monster and even teaming up with your friends for double the fire power.
Rigby Nano Moves
Death Punch (Damage-Area)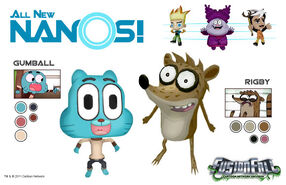 Rigby will pound your foes using his mastery of Death Kwon Do.
Java Jolt (Health-Self)
Rigby's Java Jolt will keep you working for the weekend.
Magical Keyboard (Recall-Group)
Rigby's Magical Keyboard will take everyone home. Sorta.
Mordecai Nano Moves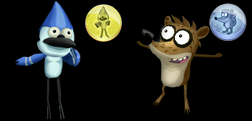 Death Block (Revive-Self)
Even a true master of Death Kwon Do knows how to cheat death with the Death Block.
Punchies (Damage-Point)
Mordecai will pound your foes with his power of punchies, no one can beat him at it.
Workin for the Weekend (Bonus)
Need a little extra cash? Mordecai can help.
Trivia
Both the Mordecai and Rigby nanos were obtained by activating a special code on the game's website.
FusionFall was closed in August 23, 2013.
FusionFall has been revived unoffically by a group of fans. The game has been renamed FusionFall Retro: https://www.fusionfallretro.com/
Gallery
Ad blocker interference detected!
Wikia is a free-to-use site that makes money from advertising. We have a modified experience for viewers using ad blockers

Wikia is not accessible if you've made further modifications. Remove the custom ad blocker rule(s) and the page will load as expected.