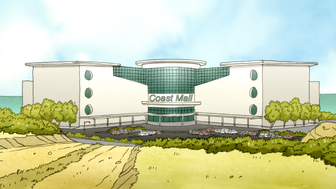 Coast Mall is a mall located near the Pacific Ocean. It has an abandoned area and a few shops and restaurants. It appeared in the episode, Gamers Never Say Die. Their motto is: Another Great Way to Shop.
Appearence
Edit
The mall has glass windows and white walls surrounded with trees. The mall has numerous shops and restaurants. In the back of the mall there is an abandoned part with a video game store any many other numerous stores.
Businesses
Edit
Restaurants
Edit
Cheezers to Go! (mall version of Cheezers)
Nesbit's Burgers and Bits (mall version of the actual restaurant)
Sushi
Chop Suey (mall version of the actual restaurant)
The Sannwich (sandwich restaurant)
Cinnabreads
BBQ
Moe's Robes
The Hat Kiosk
Video Games (formerly)
Ad blocker interference detected!
Wikia is a free-to-use site that makes money from advertising. We have a modified experience for viewers using ad blockers

Wikia is not accessible if you've made further modifications. Remove the custom ad blocker rule(s) and the page will load as expected.