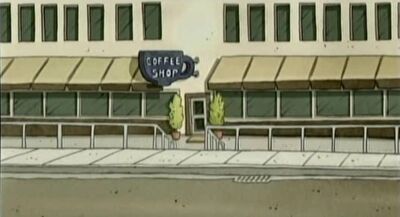 The Coffee Shop is a main location in Regular Show. 
Menu
Coffee
Salad
Doughnuts
Cereal
Sandwiches
Ice Water
French Fries
Pie
Water
Cinnamon Rolls
Frape
Current Workers
Former Workers
Trivia
It was destroyed twice in the episodes "Muscle Woman" and "Yes Dude Yes". It was also covered with brain goo in "High Score".
It is mentioned that the Boss put in an arcade game called "Broken Bonez".
The first known death in the Coffee Shop was in "High Score".
It runs an open-mic night.
Episode Appearances
Season One
Season Two
Season Three
Season Four
Season Five
Season Six
Season Seven
Gallery
Ad blocker interference detected!
Wikia is a free-to-use site that makes money from advertising. We have a modified experience for viewers using ad blockers

Wikia is not accessible if you've made further modifications. Remove the custom ad blocker rule(s) and the page will load as expected.