Cool Bikes
Talk

0
1,273pages on
this wiki
Cool Bikes is the seventh episode of season three (and forty-seventh episode overall) of Regular Show. It premiered on November 7, 2011, receiving only 1.833 million views, making it the least viewed season three episode.
Mordecai and Rigby are put on trial by a galactical court for being too cool.
After taking a high-end cart for a joyride, Benson takes the cart away from Mordecai and Rigby and replaces it with two manual bikes. After Mordecai and Rigby realize that Benson took the cart away, they make a deal with him that if Benson admits they're cool he has to give the cart back. So they first re-design the bikes and go to a clothing store named Das Coolest to get cool clothing to show Benson that they are cool.
After a montage of them getting new clothes and Benson saying still that they're not cool, a circle of people with Rigby, Mordecai, and Benson in the middle. Benson says again that they are not cool. Then Mordecai says they don't care what he says. After he says that, Mordecai and Rigby are placed under arrest for being too cool. Then they are taken to a space shuttle that highly resembles the death star and has sun glasses.
They are suddenly in court and held on trial. The opposite lawyer first brings out Muscle Man and Hi Five Ghost and asks if Mordecai and Rigby are cool and then he says no but now they are. After that the lawyer brings out the Das Coolest worker and he says they were the lamest guys he'd ever met until they got the clothes and became cool. Right before the two were trialed guilty, they told Gary to bring Benson in as a witness. He comes to the stand and finally states that they're cool. That makes the judge say that the two are guilty and punishment is death. So Benson helps out Mordecai and Rigby escape.
Right before they leave Mordecai throws the bikes at a part of the ship and right when they leave the whole ship explodes and they make it back to earth. Afterwords, Mordecai asks Benson if they can have the cart back, and he says no, and show ends.
Characters
Edit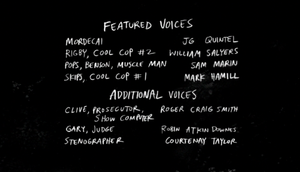 Minor Characters
Edit

The gallery for Cool Bikes can be viewed here.