"Gymblonski" is the twenty-first episode of Season 7 of Regular Show (and two hundred and second overall) It was made available on The Cartoon Network app on February 13, 2016, and it aired on TV on March 19, 2016.
Synopsis
Rigby's high school nemesis returns and threatens to ruin his chances at passing gym class and graduating high school.
Plot
TBA
Characters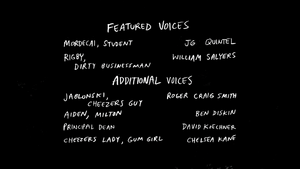 Aiden Jablonski
Milton
West Anderson High Students
Gum Girl
Cheezer's Cashier
Cheezer's Worker
Dirty Businessman
Dirty People
Coach McCrackle (mentioned)
Trivia
Rigby and Jablonski's high school rivalry is brought to an end.
Goofs
When High School Rigby is knocked down by the dodge ball in the flashback, his hair underneath his hat is styled the way it is currently, and the hair that wasn't covered by the hat is still blonde
References