House Rules
Talk

3
1,273pages on
this wiki

House Rules is the eighth episode of season three (and forty-eighth episode overall) of Regular Show. It premiered on November 14, 2011, garnering 2.298 million views worldwide.
Mordecai and Rigby stumble upon an anarchy after trying to find a place not governed by rules.
Mordecai and Rigby are playing video games when Benson walks in and tells them to look at some rules. Upon reading it, they find new rules like "no feet on the table," "no food on the table," and "no food on the floor." When they see that one of the rules that Benson added is "no video games," it pushes the two to the point where they try to talk Benson out of it, but are unsuccessful. So they decide to leave the house and find some place where there are no rules.
After trying overnight camping outside the house, which is foiled by another of Benson's rules ("no overnight camping"), the duo try their luck at the Coffee Shop, However, when Margaret answers their knocks, she tells them they can't camp there on account of her boss' rules. The two then try their luck at other places, to no success, once narrowly avoiding being beat up by a person named Gunther.
In an alley, Mordecai and Rigby meet
No Rules Man
who knows the kind of place they are searching for, so Mordecai and Rigby follow him to a place with no rules (which is inside a big box of garbage). They think it is very cool until they confront the unicorns that they killed in "
The Unicorns Have Got to Go
" and tells No Rules Man to get rid of them. Naturally, this upsets him because he thinks they told him what to do. So everyone starts to attack them and Mordecai finds out that it's not against the rules to have rules. He summons Benson's rule book to get rid of the problem and convince No Rules Man to tell them the way out. When Mordecai and Rigby go back to the house, they go back to Benson so he can accept them back into the house. Benson believes that they have learned their
lesson, but Benson notices that one rule is ripped out and Mordecai asks which one it was. Meanwhile, No Rules Man is playing the game, "Karate Choppers," when a piece of paper lands on his lap. On the piece of paper is the missing rule (which was "no video games"), and when he reads it, he explodes.
Characters
Edit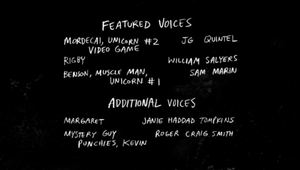 Minor Characters
Edit
This episode explores the theme of how rules and laws are sometimes what holds a society together. At first, the idea of having no rules was a good thing, but eventually chaos ensued in the Land of No Rules due to the lack of a governing set of laws. This episode shares similar themes with William Golding's novel Lord of the Flies.

The gallery for House Rules can be viewed here.