Lolliland People
Talk

0
1,273pages on
this wiki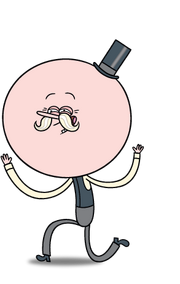 Description
Edit
Lolliland People, otherwise known as Lollipop People, are a race of humanoid Lollipops and one of the many unique species seen in the world of Regular Show. Pops, a major character in the series is also a Lollipop Person as well as his father and mother. The first Lollipop person to appear is Lolliland Man from J.G. Quintel's animated student short The Naive Man from Lolliland.
Appearance
Edit
They have tall and thin humanoid bodies with pale skin which are rather small when compared to their extremely large heads which are perfectly round and lollipop-like. They look this way from childhood to adulthood, however really old Lollipop folk, such as Mr. Maellard will become short and green at their oldest and will resemble something along the lines of a sour candy.
Pops appears to use Lollipops as money, however, it is unknown if all Lollipop People have had this custom.
Prior to Regular Show, J.G. Quintel had created an animated short titled The Naive Man from Lolliland which featured a Lolliland Man (a prototype for Pops) who had come to Earth from Lolliland. It is unknown if Lolliland exists in Regular Show, though, it is a high possibility.
Lolliland People have existed since before 1879 and appeared to be quite rich and noble even in that era as they are in present day.