This is the page for info on Margaret's family
Parents
Frank Smith
Frank Smith

Biographical Information
Occupation:
Helicopter pilot for the local news
Species:
Human
Gender:
Male
Hair color:
Grey (formerly light brown)
Show Information
Voiced by:
Roger Craig Smith
First appearance:
""Family BBQ""
Latest appearance:
""Local News Legend""
Frank Smith is Margaret's father and Denise's husband.
Appearance
Unlike the other members of his family, he is a human. He has a large muscular build, grey hair, and a mustache. He wears a light yellow collared shirt with grey pants.
Personality
Frank Smith is known be soft, with a rock hard exterior. He refuses to respect or give hand shakes toward any guy that his daughter brings home, unless they can do a better "mannonball" than he can.
Frank revealed to Mordecai that the reason he acts the way he acts is because he was afraid that the other boys will take his daughter away from him. Fortunately, Mordecai managed to convinced Frank that his daughter will always love him and that he will always be her dad.
Relationships
At the beginning of "Family BBQ", Frank shows his instant hatred to Mordecai. He often ignores the helpful things Mordecai does, especially that he only does it so Frank could like him. When he challenges Frank to a cannonball contest, Frank wouldn't give up, and eventually would take things too far. At the end, Frank became friends with Mordecai after he admitted he was impressed that he would win a cannonball contest just for Margaret. Mordecai and Frank have remained friends ever since.
In "The Thanksgiving Special", Frank took Mordecai and Rigby around in Chopper 6 in order to go to the competition and to get the turkey.
In "1000th Chopper Flight Party", Frank is happy to see Mordecai, and even calls him his "son". When Frank finds out that Mordecai has a new girlfriend, he is upset. However, he still has his respect for Mordecai, and offers him a piece of cake for his girlfriend "JC".
Frank truly loves his daughter, calling her his "hug bug". He is not nice to and refuses to shake the hand of any guy she brings home (until Mordecai), because deep down he's afraid they'll take Margaret away from him.
Episode Appearances
Denise Smith
Denise Smith is Margaret's mother and Frank Smith's wife.
Appearance
She bares a strong resemblance to her daughter Margaret, except her hair is a little different, her beak is a little straighter, and she has lines under her eyes. She wears a light blue shirt with a laced collar and long white pants.
Personality
She is friendly and polite towards people. Unlike her husband, she is more than happy to shake the hands of Margaret's boyfriends and act nice towards them. She loves her husband, despite him getting carried away with things such as mannonballs.
Episode Appearances
Cousins
John
John is one of Margaret's cousins, and he the first member of Margaret's family seen in the series.
Appearance
John is most likely a oriole, although this has not been confirmed. He has a muscular build and is a few inches shorter than Mordecai. His most notable feature is a wooden prosthetic right leg. He has orange feathers on his arms, back, and the majority of his head, yellow feathers on the front of his body and the lower part of his face, and black markings on the sides of his eyes. He has feathers, or "hair", on his head that are in a slicked back fashion. In "Yes Dude Yes" he wears a white and grey plaid shirt, dark grey jeans, and brown shoes. In his other 2 appearances, he only wears grey swim trunks and white sneakers.
History
John is first seen in "Yes Dude Yes". Mordecai sees him down on one knee in front of Margaret at the coffee shop, and Margaret is exclaiming "Yes Dude Yes!". This leads Mordecai to think Margaret is engaged, and he becomes depressed. He eventually learns that John is Margaret's cousin and she was only saying yes dude yes because she was happy that John got a new leg. He is also at Margaret's family BBQ in "Family BBQ". At one point he kicks a football and his fake leg flies off with it. Mordecai catches both of them. He also has a cameo in "1000th Chopper Flight Party".
Episode Appearances
Ricky
Ricky is one of Margaret's cousins.
He has brown hair and glasses with black rims on the top of the lenses. He wears a purple shirt with a lighter purple collar and cuffs, and tan shorts.
Tommy
Tommy is one of Margaret's cousins.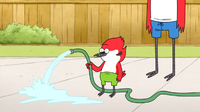 His hair is curved and the front part of it is split into 4 spikes at the top. He has buck teeth and he is wearing green swim trunks.
Markie
Markie is one of Margaret's cousins.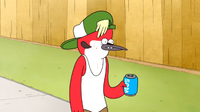 He has blonde hair under a green and white cap that is worn backwards, and his bangs hang out of the opening in the back. He also has buck teeth and pimples on his cheeks. He is wearing a white tank top and brown shorts
Robby
Robby is one of Margaret's cousins.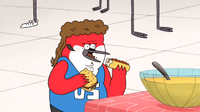 He is fat and has brown hair in a mullet. He also has freckles. He wears a blue tank top with the number "05" on it and black shorts. He is voiced by Sam Marin in "1000th Chopper Flight Party".
Ronnie
Ronnie is one of Margaret's cousins.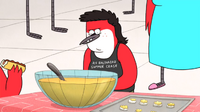 He is fat and has black hair in a mullet, similar to Robby, along with having freckles and buck teeth. He wears a black tank top with the words "Ace Balthazar Summer Crash" on it, and green shorts.
Susie
Susie is one of Margaret's cousins.
When Susie first appears her hair is in two curved sections like Margaret's hair, although it is split at the tops, and she has buck teeth and is wearing a light blue swimsuit, yellow water wings, and a purple inner tube. Later in the episode, however, she is wearing a yellow swimsuit with pink flowers on it and a poofy swim diaper, and her hair is in one curve with 3 spikes at the top. She appears this way for the rest of the episode.
She is voiced by Jennifer Hale, who also voices Denise, although she is only heard laughing.
Stacey
Stacey is one of Margaret's cousins.
She has red hair pulled back into a ponytail. She has freckles, and unlike most members of her family she doesn't have brown markings on her head. She wears a lime green swimsuit and blue swimming goggles.
Darrel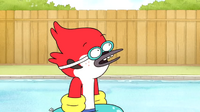 Darrel is a member of Margaret's family. Denise does not introduce him when she lists off Margaret's cousins, and his name is not said in the episode, although his name is listed in the credits, and it can be inferred that he is one of Margaret's cousins. He has curved red hair split in two at the top of each curve, freckles, and buck teeth. He wears aqua goggles and blue swim trunks, along with yellow water wings and a teal inner tube. He is the one who informs Mordecai that in order for Frank to shake his hand, he has to beat him in a cannonball contest.
He is voiced by Roger Craig Smith, who also voices Frank and John.
Uncles
Uncle Tim
Tim is one of Margaret's uncles. He is tall and fat. He has shoulder length grey hair with a bald spot on the top of his head. He has black markings on the sides of his eyes. He is seen wearing a yellow Hawaiian shirt with pink, purple, and green flowers with a white shirt underneath it, and teal shorts. He almost chockes on a hot dog twice in "Family BBQ"
Uncle Dave
Dave is one of Margaret's uncles. He is smaller than Margaret's other uncles. He has a curved hairstyle, with the front part in 3 spikes at the top, and he is fat. He is seen wearing a black collared v-neck shirt and white and light blue plaid shorts, along with sunglasses and a gold necklace.
Uncle Bill
Bill is one of Margaret's uncles. He is tall and has a wide build. He has short hair in a styled back fashion. Like Stacey he doesn't have brown markings on his head. He is seen wearing a white t-shirt with a pocket on the right side, and blue shorts.
Aunts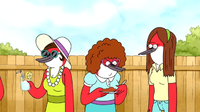 Aunt Theresa
Theresa is one of Margaret's aunts. She has short dark brown hair under a white sun hat with a purple band around it. She is also seen wearing a lime green dress with a darker lime green belt, a necklace with big white pearls, and aqua green sunglasses.
Aunt Mary Beth
Mary Beth is one of Margaret's aunts. She has light brown hair in a big curly afro, a chubby figure, and pink cat eye glasses. She also wears a light blue dress with a white collar and sleeve cuffs, round sleeves, a purple belt, and an aqua colored shirt.
Aunt Kathleen
Kathleen is one of Margaret's aunts. She has brown hair in a light green hairband. She wears a yellow collared shirt and light blue jeans.
Grandparents
Nana Smith
Nana Smith is Margaret's grandmother. She has a heavy set figure, wrinkly skin, glasses, and curly white hair under a purple sun hat. She also wears an orange dress with yellow flowers.
Grandpappy Jack
Grandpappy Jack is Margaret's grandfather. He is very elderly as his arm is shaking when he is putting food in his mouth. He has thin red hair on top of his head and white hair on the sides of his head. He is seen wearing a blue shirt with green grass on it and white shorts, along with black sunglasses. He has wrinkled skin and bony legs.
Trivia
Gallery
Ad blocker interference detected!
Wikia is a free-to-use site that makes money from advertising. We have a modified experience for viewers using ad blockers

Wikia is not accessible if you've made further modifications. Remove the custom ad blocker rule(s) and the page will load as expected.