Margaret
Talk

24
1,273pages on
this wiki
Margaret

Biographical Information
Occupation:
Coffee Shop Worker
Species:
Cardinal
Gender:
Female
Hair color:
Red/White
Eye color:
Black
Relatives:
John (cousin)
Show Information
Voiced by:
Janie Haddad
First appearance:
"Caffeinated Concert Tickets"
Latest appearance:
"Death Bear"
Margaret is a main/supporting character in Regular Show. Margaret is a female Cardinal who works as a waitress in the Coffee Shop, with her best friend Eileen, across the street from The Park. Mordecai has a large interest in her, and is always finding ways to make excuses to go to the coffee shop to see her. Margaret made her first debut in Caffeinated Concert Tickets. Margaret is voiced by Janie Haddad.
Appearance
Margaret is a cardinal. Her feathers are red and white color (white feathers sometimes appear pinkish), her beak is curved, has a brownish, the "spots" on the sides of her head are comma shaped, and a curved hairstyle. When she isn't working, she usually wears jeans and yellow shirts except in Caffeinated Concert Tickets and often dresses rather provocatively. She has a large posterior as seen in Slam Dunk. Her personality can be described as a kind-hearted, caring, and down-to-earth girl.
Relationships
Mordecai is one of her best friends. Episodes that Margaret appear in are usually accompanied by a failed attempt by Mordecai to initiate a conversation, which proves to be an arduous task itself.
In Season One, the two appear to be friends ever since Margaret's first appearance in Caffeinated Concert Tickets (and possibly earlier). Much to Mordecai's dismay, Margaret seems to be totally oblivious toward Mordecai's interest on her, even showing off her other dates (one of which she dumped right away) in front of him.
In Season Two, the two of them seemingly begin to develop more than just a friendship, albeit more haphazardly than needed (i.e. It's Time, Brain Eraser and Do Me a Solid). Despite the aforementioned "bumps on the road," the two keep their friendship intact. At this time, Margaret spends more time with Mordecai, mostly since she lacks any boyfriends in each episode, unlike Season One.
In Season Three, there are numerous times when the two appear much more closer than they normally were (i.e.Slam Dunk, Margaret calls Mordecai "hot", Camping Can Be Cool, when the two nearly held hands; Cruisin', where they did hold hands, even if very briefly).
In the episode Butt Dial, Margaret hears Mordecai's embarrassing message (in which he sings about her and how it would be if they were together) and surprisingly sets it as a ring tone for when Mordecai calls her. She also tells him that he'd better call her more often. This could imply that Margaret and Mordecai are possibly becoming more than friends and might be building a relationship. In the episode "Yes Dude Yes," she gets jealous of Mordecai for spending time with another girl, CJ. In Yes Dude Yes, she gladly accepts Mordecai's invitation to go see Love Bot 2. However, when CJ comes and confuses the situation, she doesn't go to the movies with him.
Another hint between a relationship between Margaret and Mordecai is during the episode Access Denied when Eileen says to Margaret that she knows that Margaret is waiting to dance with Mordecai. At the end of the episode, they end up dancing, therefore increasing the relationship between the two.
In the episode Death Bear, Mordecai and Margaret spend a lot of time together, talking about the memories that Mordecai had when he visited the Zoo when he was a kid. Later on in the episode, Mordecai attempts to kiss Margeret, but before she has a chance to do anything else, the Death Bear appears and chases them away. At the end of the episode, Margaret thanks him for being brave and saving her life, and affectionately hugs him, unlike High Score , where she only hugged him because he beat the world record.
Overall, it is very possible that Margaret likes Mordecai back, given all of the evidence shown throughout Season Three.
Margaret rarely interacts directly to Rigby, but in "It's Time," Rigby makes Margaret laugh, and almost manages to go to a movie with her. She seems to like Rigby since they made a date but this could be mistaken.
Margaret and Eileen are best friends the way Mordecai and Rigby are. She is close to Eileen and does solids for her all the time (Do Me a Solid). Margaret hopes for Eileen and Rigby to become closer. It is unknown why Eileen was introduced in the first place.
Margaret does not seem to interact much with Pops, but in "Butt Dial," she tells him to get her cell phone.
Family
Father
Margaret has a close relationship with her father. In "Do Me a Solid," she mentions that her father used to bring her to play mini golf when she was a child and her phone password is 'Daddy's Girl' as seen in Butt Dial. In "Diary," she says she "can only take her parents for so long".
John is Margaret's cousin. They seem to be close as she was happy when he got a new leg.
Appearances
Margaret-Themed Content
Trivia
Even though she is introduced in Caffeinated Concert Tickets, Mordecai seems to already know her, it is unknown when though
The name Margaret is of English origin. It's meaning is derived from from the Latin 'Margarita' which was Greek for pearl.
In Camping Can Be Cool, Margaret mentions that she attends a college in the City and also plans to quit her job at the Coffee Shop as soon as she graduates (much to Mordecai's chagrin). Earlier in the same episode, she also mentions that she hasn't had a boyfriend for a while. The last time she has had a boyfriend was in Mordecai and the Rigbys (also one fake boyfriend in Cruisin'), although in Do Me a Solid she mentioned that she was seeing someone.
It is very possible that she returns Mordecai's feelings because she is really nice, caring, and supportive of him and seems to like him a lot as a friend
She is a cardinal.
Margaret's car strongly resembles a 1982-1985 Honda Accord Hatchback.
In Do Me a Solid and Cruisin', Margaret wears the same outfit.
In High Score, Margaret hugs Mordecai after he and Rigby beat the world record of Broken Bonez.
Mordecai is the only person she calls "Dude" most of the time
Originally, Margaret wasn't going to wear clothing like Mordecai; however, this was changed for unknown reasons, possibly because she is female.
Benson calls her the "coffee girl" in Yes Dude Yes.
Margaret is shown to be a fan of adventure movies as seen in the beginning of Death Bear
She seems to be nicer to Mordecai than the way Rigby and other characters are
Gallery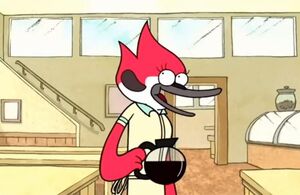 The gallery for Margaret can be found here.
Main Characters of Regular Show