Mordecai's Phone
Talk

0
1,273pages on
this wiki
Deletion
This article has been nominated for deletion.
Reason: Unneeded

Please discuss this article's possible deletion here.
Description
Edit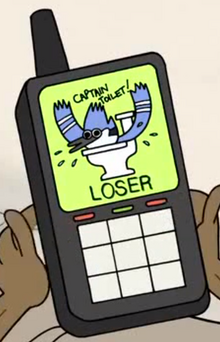 Mordecai's Phone is shown as a brand new phone, seen in Butt Dial. It is seen again in Access Denied when Mordecai uses it to call Margaret.
Appearance
Edit
It is black, and its current wallpaper has a green background and shows Mordecai drowning in a toilet, with the caption "LOSER" underneath. Its only known contacts are Margaret and the Baby Ducks. It is not shown to have a password, though Mordecai may have not set up and/or paid for that feature yet.