Pops's Harpsichord
Talk

0
1,273pages on
this wiki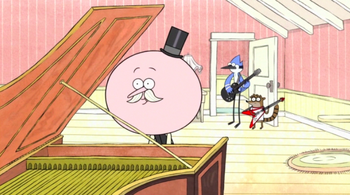 Description
Edit
Pops' Harpsichord is seen in "Mordecai and the Rigbys", and mentioned in "House Rules". During the scene, where Mordecai and Rigby go to Pops for music advice, it is shown Pops playing the harpsichord. You can hear the notes that he is playing. In "Fists of Justice", the harpsichord apparently gets stuck in the doorway, so Mordecai and Rigby ask Skips to help move it. However, Skips can't even move it so in the end, as a favor for Mordecai and Rigby saving The Guardians of Eternal Youth, two of the Guardians help move it out and in fact, succeeded.
Appearance
Edit
A regular real-life harpsichord looks almost exactly like a piano. It also has a different string function. Pops' Harpsichord, is brown, with several different designs and different colors of brown. It has two rows of keys and a seat where he sits.
Several people mistake a harpsichord with a piano.
In House Rules, one of the rules was, "No harpsichord playing after 10 p.m." Although it did not mention Pops or his harpsichord at all, it was referring to Pops' harpsichord for the moment.
It is unknown where the Harpsicord is since the events of Fists of Justice. However, it could be stored in the garage.