This article is under the scope of the Miscellaneous Cleanup Project and has yet to be cleaned up to a higher standard of quality. It may contain errors, spelling, grammar and structure issues, or inconsistent formats. Reader's discretion is advised until fixing is done.


You can help clean up this page by correcting spelling and grammar, removing factual errors and rewriting sections to ensure they are clear and concise, and moving some elements when appropriate.

Regular Show merchandise has been sold, and this is a list of the miscellaneous objects. To see the clothing/shirts, click here.
Stickers
Mordecai and Rigby Stickers
The Mordecai and Rigby Stickers feature Mordecai and Rigby each standing in a normal pose. There's also a sticker of Mordecai and Rigby saying "Oooohhhh" atop a yellow background. They can be found at Hot Topic.
Pins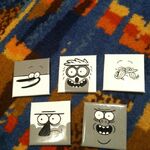 Two different pins were released at Hot Topic. The first one says "I'm Player One" with Mordecai and Rigby fighting atop a gray background (Directed towards Death Punchies") and the second one has Mordecai and Rigby saying "Ooooohhhh!" atop a yellow background.
Five pins were given out at the Cartoon Network booth at SDCC 2012, featuring monochrome portrait images of Mordecai, Rigby, Benson, Pops, and Muscle Man.
Drinkware
Mordecai and Rigby Water Bottles
Mordecai and Rigby water bottles are available at the cartoonnetworkshop.com website. The water bottles, are white, with Mordecai and Rigby in their usual pose, saying, OOOOOOOOH!
Coffee Mugs
Coffee Mugs are available at the cartoonnetworkshop.com website. The coffee mugs are also white, with Mordecai pushing a mower, and Rigby sitting on it, drinking coffee.
Mousepads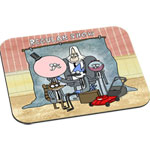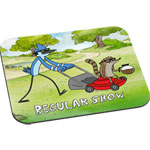 Regular Show Mousepads
Regular Show mousepads, are available in the cartoonnetworkshop.com website. There are two available. One has the pose from the season three promo, with the whole gang getting a picture, wearing suits. The other one has Mordecai pushing Rigby on a lawnmower, while Rigby drinks coffee.
DVDs
Regular Show: Slack Pack
Main Article: Regular Show: Slack Pack Regular Show: Slack Pack is a Regular Show DVD released on April 3, 2012. It mostly contains season one and two episodes.                                               .                                        
Regular Show: The Best DVD in the World* (*At this Moment in Time)
Main Article: Regular Show: The Best DVD in the World *At this Moment in Time
Regular Show: The Best DVD in the World* *At this Moment in Time is a Regular Show DVD Released on November 6, 2012. It contains mostly Season 3 episodes and Season 2 episodes.
Ringtones
Ringtone
On the Cartoon Network website, a ringtone (called Ringtone) sung by Mordecai and Rigby can be downloaded onto your iPhone or Android.
Necklaces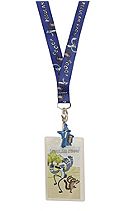 Lanyard
The Lanyard has a strap that had the design the OOOOH! T-Shirt has, with a blue background. The attachments to it are a rubber piece, that features Mordecai and Rigby pointing from "The Power", a card where the front has Mordecai and Rigby waving their arms with the logo at the top, and the back has a place where you can put your name, your address, and your telephone number, with the CN logo on the bottom. These are sold at Hot Topic.
Pillows
Pops Pillow
J.G. Quintel confirmed on his Twitter that a Pops Pillow was on the way and he himself uses one. It currently unknown if this will be released to Hot Topic or CartoonNetwork.com.
Cases
iPhone/iPod Touch Cases
Nine cases for iPhones 4/4S and iPod Touches 4th generation have been released. The first one features Hi Five Ghost smiling with a blue color, the second one features Mordecai his arms and the word "OOOOH!" ontop of him with an brown coloring, the third one features Rigby with "OOOH!" above his head with a blue coloring, the fourth one features Muscle Man's face along with "You know who's calling? MY MOM!",the fifith one features Mordecai and Rigby inside the leaves,the sixth one features Pops's Face with a purple color,the seventh one features Skips with a blue color,the eighth one features Mordecai with a purple color,and the ninth one features Mordecai and Rigby with their arm crossed.These can only be purchased via Cartoon Network Shop.com.
Belts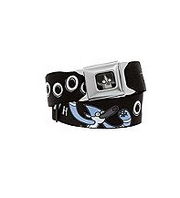 A Regular Show Seat Belt Belt is sold at Hot Topic.
Bags
Comic-Con Fanny Pack
An exclusive Regular Show-themed fanny pack was given out at the Regular Show panel at SDCC 2012. It is red with the show logo printed on the front, and the interior is lined with a Mordecai and Rigby pattern. It is currently not available for purchase.
Regular Show Toys
See Main Article: Regular Show Toys
Books
Recently, Regular Show has had some book releases, based on the show. 
Mad Libs
There is a Regular Show themed Mad Libs book including 21 original stories. 
Tales from Regular Show
A story book with 64 color pages. 
Game Night! Quips' Book of Questions, Quizzes & Games
This is an activity book featuring many quizzes and some Drawsome Pages, it is written from Quips' point of view. 
Employee Handbook
A guide to many Regular Show characters. 
Benson's Big Book of Freakouts
A Book shaped like Benson's head with many mad moments with Benson.
Best. Journal. Ever.
A Regular Show "Do-It Yourself" Journal with many fun writing activities. 
Scribble and Sketch
A drawing book where you can "Re-create the world of Regular Show."
Muscle Man's Guide to Life
This is a guide of how Muscle Man lives his life.
Mordecai and the Rigbys: The Experience
This is an activity book with information about Mordecai and Rigby's band!
Which Dude Are You?
An activity quiz book where you can find out what Regular Show character matches you the most!
Hey Bro, Did Ya Know?
A fact book including trivia, facts and quotes from Regular Show. 
Big Summer Vacation Activity Book
An activity book including games, puzzles and doodle activities. It also comes with a sheet of stickers and some postcards.
It's a Regular Life
An upcoming Christmas novel based on the Christmas movie, It's a Wonderful Life, where Skips has a tough time throughout the holidays.
Fakespeare in the Park
An upcoming novel, about Mordecai and Rigby ruining the park's Shakespeare festival.
Ad blocker interference detected!
Wikia is a free-to-use site that makes money from advertising. We have a modified experience for viewers using ad blockers

Wikia is not accessible if you've made further modifications. Remove the custom ad blocker rule(s) and the page will load as expected.