To see the previous polls, click here.
With the end of Regular Show, what is your favorite season?

 

Who is your favorite main character during Season Eight?

 
---
Featured Article and Image
You can vote for which should be featured next month. To discuss the nominations, click here.
What article do you think should be featured in March 2017?

 

What image do you think should be featured in March 2017?

 

---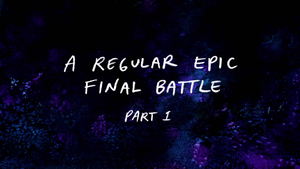 Nominated by NotShemp


"A Regular Epic Final Battle" is the series finale as well as the hour long special and the twenty-seventh episode in Season 8 (and two hundred and forty-fourth overall) of Regular Show. It first aired on January 16, 2017.

It is composed of 3 segments, "Part 1", "Part 2", and the final standalone part 3, titled "The Power".



READ MORE...





To see the previous Featured Articles, click HERE.




To vote & discuss the next article, click HERE.
---
---
Forum Games
There is currently 8 forum games that you can take part in!
---
---
Ad blocker interference detected!
Wikia is a free-to-use site that makes money from advertising. We have a modified experience for viewers using ad blockers

Wikia is not accessible if you've made further modifications. Remove the custom ad blocker rule(s) and the page will load as expected.