This article is under the scope of the Actor Cleanup Project and has yet to be cleaned up to a higher standard of quality. It may contain errors, spelling, grammar and structure issues, or inconsistent formats. Reader's discretion is advised until fixing is done.


You can help clean up this page by correcting spelling and grammar, removing factual errors and rewriting sections to ensure they are clear and concise, and moving some elements when appropriate.

Sam Marin

Birth date:
March 4, 1984
Occupation:
Voice actor
Animator
Education:
CalArts

Sam Marin (born March 4, 1984) is an American animator[1] and a voice actor on Regular Show, voicing Benson, Pops and Muscle Man. He started voicing Pops and Benson in the pilot, and then Muscle Man in "Just Set Up the Chairs" onwards. Other roles he's played can be seen below.
Early life and career
He met J.G. Quintel at CalArts, being in the same class, and the two became friends. Marin would help Quintel on his student films, such as The Naive Man from Lolliland and 2 in the AM PM, even voicing characters in the aforementioned films, starting his voice acting career.[2] He eventually graduated from CalArts, and worked at Walt Disney Animation Studios as an animator, working there for three years before Regular Show was greenlit, leaving Disney to work for Cartoon Network.[3]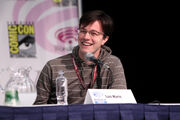 Regular Show
As stated above, Marin voices three central characters: Benson, Pops and Muscle Man. Marin's voice for Benson's is very similar to his regular speaking voice, only angrier and more stressed. With Pops, Marin needs to make his voice as high-pitched as possible, while still sounding lovable. Finally, with Muscle Man, Marin tries to sound annoying and disgusting, and sounding as loud and obnoxious as he can. Regular Show creator J.G. Quintel can't believe Marin can voice all three characters: "...I still can't understand how he can make it sound like Muscle Man, Pops, and Benson are having a conversation, and it's just him in the record booth talking to himself."[2] When describing Pops as a character, he admits: "There's something kind of sad behind Pops, because he just wants love. You can tell."[4] Benson is currently Marin's favorite voice to do on the show.[5]
Other work
Other than his work on Regular Show, he also voiced characters on another show J.G. Quintel worked on, The Marvelous Misadventures of Flapjack. He also voiced Clarence and Gareth in two episodes of Adventure Time.[6]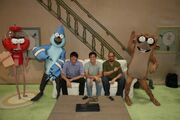 Voice credits
This section may be incomplete
Season 1
Season 2
Season 3
Season 4
Season 5
Season 6
Season 7
Season Eight
Personal life
Marin has stated in an interview if he wanted to create something of his own, he stated something superhero related: "I'd want to do a super-hero show. Working on a comic book show would be cool. Like Spider-Man. I really like Spider-man and Batman, and I think it'd be fun to play those characters. Actually, animated Harry Potter. I changed my answer."[4] Marin's favorite episode of Regular Show is "Eggscellent".[4]
He resides in an undisclosed location, drawing in his free time. On his Twitter it revealed that he actually does get angry like Benson.
External links
References
Regular Show Voice Actors
Ad blocker interference detected!
Wikia is a free-to-use site that makes money from advertising. We have a modified experience for viewers using ad blockers

Wikia is not accessible if you've made further modifications. Remove the custom ad blocker rule(s) and the page will load as expected.