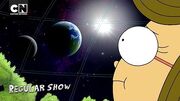 Season 8 of the Cartoon Network series, Regular Show, was confirmed on July 7, 2015. It is the final season, and it was scheduled to premiere in September 26, 2016. [1] The final episode aired January 16, 2017.
Episodes
On July 7th, 2015, Cartoon Network renewed Regular Show for an eighth and final season. [2] [3]
Season Eight
#
Title
Viewers
(in millions)
Prod. code
Airdate
1
"One Space Day at a Time"
1.14[4]
801
September 26, 2016
The guys find themselves in space.
2
"Cool Bro Bots"
1.14[5]
802
September 26, 2016
Rigby and Mordecai have a confrontation with robots.
3
"Welcome to Space"
0.96[6]
803
September 27, 2016
The Dome needs repairs.
4
"Space Creds"
0.96[7]
804
September 27, 2016
Mordecai and Rigby want shoes.
5
"Lost and Found"
0.96[8]
805
September 28, 2016
The guys go after a wallet.
6
"Ugly Moons"
0.98[9]
806
September 29, 2016
Muscle Man sets out to prank someone.
7
"The Dream Warrior"
1.09[10]
807
September 30, 2016
The guys try to help Pops overcome his nightmares.
8
"The Brain of Evil"
TBA
808
October 3, 2016

Mordecai and Rigby accidentally releases an evil brain.

9
"Fries Night"
TBA
809
October 4, 2016
When Benson is dumped by his girlfriend Pam, he goes on a quest for French Fries to fill the void left in his Heart.
10
"Spacey McSpaceTree"
TBA
810
October 5, 2016
Rigby must pass the Space Tree Safety Test.
11
"Can You Ear Me Now?"
TBA
811
October 6, 2016
Mordecai and Rigby are on trial for an incident that happened downtown.
12
"Stuck in an Elevator"
TBA
812
October 7, 2016
Mordecai and Rigby get pumped to see a rock concert on the spaceship.
13
"The Space Race"
TBA
813
October 10, 2016
The guys race through space.
14
"Operation: Hear No Evil"
TBA
814
October 11, 2016
Mordecai and Rigby try to avoid spoilers about their favorite TV show.
15
"Space Escape"
TBA
815
October 12, 2016
Mordecai and Rigby must stop an attack on the Space Tree Station. 
16
"New Beds"
TBA
816
October 13, 2016
The guys get new beds.
17
"Mordeby and Rigbecai"
TBA
817
October 14, 2016
The guys screw around with a teleportation machine.
18
"Alpha Dome"
TBA
818
October 20, 2016
The guys engage in confrontations.
19
"Terror Tales of the Park VI"
TBA
819-820
October 27, 2016
The gang tells scary stories with a science fiction twist.
20
"The Ice Tape"
TBA
821
November 3, 2016
The guys have to play a special VHS tape.
21
"The Key To The Universe"
TBA
822
November 10, 2016
The guys have a super important lesson.
22
"No Train No Gain"
TBA
823
November 17, 2016
The guys help Pops' train.
23
"Christmas in Space"
TBA
824-825
December 1, 2016
The guys celebrate their first Christmas in space by sharing stories and opening presents, but Benson gets annoyed that the stories have scary elements.
24
"Kill 'Em with Kindness"
TBA
826
January 14, 2017
Pops wants to be friends with someone.
25
"Meet the Seer"
TBA
827
January 14, 2017
The guys need to talk to someone smart.
26
"Cheer Up Pops"
TBA
828
January 16, 2017[11]
The guys try to cheer up Pops for his upcoming fight.[12]
27
"A Regular Epic Final Battle"
TBA
829-830-831
January 16, 2017[13]
In the epic series finale, the fate of the universe will be decided.[14]
Trivia
Eileen is a main character in this season.
Since the story revolves around Pops' true heritage, as his evil counterpart Anti-Pops is the main antagonist of this season, Pops plays a more important role in this season.
Cartoon Network has announced that the final 9 episodes of the series will air in 2017.
References
Ad blocker interference detected!
Wikia is a free-to-use site that makes money from advertising. We have a modified experience for viewers using ad blockers

Wikia is not accessible if you've made further modifications. Remove the custom ad blocker rule(s) and the page will load as expected.