"Sleep Cycle" is the eleventh episode of Season 7 (and one hundred and ninety second overall) of Regular Show.
Synopsis
Mordecai and Rigby watch movies for two whole nights, throwing off their sleep cycles. 
Plot
Mordecai and Rigby decide to start their weekend by watching, "Morales and MacCreedy" movie marathons from 11PM to 7AM on TV28. After watching all three nights of the marathon, Mordecai and Rigby head upstairs to get sleep, but it turns out to be morning already and Benson takes them to the morning meeting.
TO BE CONTINUED....
Characters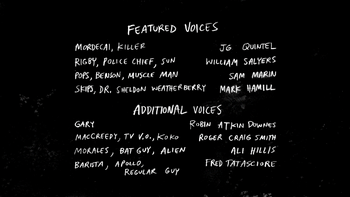 Apollo
Koko
Killer
Police Chief
Dr. Sheldon Weatherberry
Duncan MacCreedy
Antona Morales
Bat Guy
Alien
Barista
Trivia
It was first set to air on October 1, 2015, but was pulled.
Episode connections
This episode's plot is similar to season 1 episode, "Caffeinated Concert Tickets". Similarities such as Mordecai and Rigby drinking special coffee to keep them working.
References