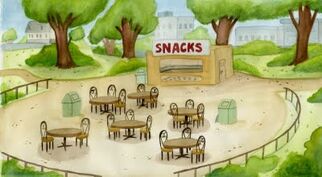 The Snack Bar is a reccuring location in Regular Show. 
Episode Appearances
Season One
Season Two
Season Three
Season Four
Season Five
Season Six
Known Snacks
Donuts
Hot Dogs
Icecream Sandwiches
Cake
Chips
Pizza
Beverages
Soda
Cheese
Sundaes
Trivia
Muscle Man and Hi Five Ghost are usually on Snack Bar duty.
Pops is the only one who is allowed to eat for free while on Snack Bar duty.
Ad blocker interference detected!
Wikia is a free-to-use site that makes money from advertising. We have a modified experience for viewers using ad blockers

Wikia is not accessible if you've made further modifications. Remove the custom ad blocker rule(s) and the page will load as expected.