This article is about the episode. For the character, see "Spacey McSpaceTree".
"Spacey McSpaceTree" is the tenth episode in Season 8 (and two hundred and twenty-seventh overall) of Regular Show. It aired on October 5, 2016.
Synopsis
Rigby must pass the Space Tree Safety Test.
Plot
TBA
Characters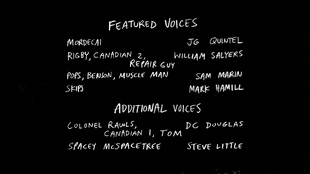 Tom
Canadian Domers
Eileen (cameo)
Jamaican Domers (cameo)
Roxy (mentioned)
Trivia
Episode Notes
The other domers from different countries are seen such as the Canadian domers and the Japanese domers.
It's revealed that the Space Tree Station has been around for at least 30 years when Col. Rawls revealed that they kept Spacey in cryo sleep for that amount of time.
Episode Connection
Mordecai asking if Rigby wants any Roxy's food truck fries is a reference to the previous episode "Fries Night".
Cultural References
References