This article is under the scope of the Location Cleanup Project and has yet to be cleaned up to a higher standard of quality. It may contain errors, spelling, grammar and structure issues, or inconsistent formats. Reader's discretion is advised until fixing is done.


You can help clean up this page by correcting spelling and grammar, removing factual errors and rewriting sections to ensure they are clear and concise, and moving some elements when appropriate.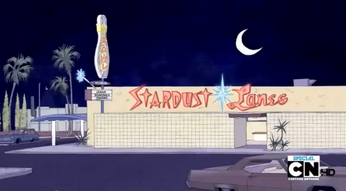 Stardust Lanes is a bowling alley that is seen in "Skips Strikes". It hosted a tournament in said episode where in the finals, The Park Strikers defeated The Magical Elements and broke their long-time winning streak. It was also seen in the episode, "Terror Tales of the Park II" as the place where Mordecai, Rigby, Muscle Man, Hi Five Ghost, and Mordecai's uncle were bowling in the short, "Payback". Mordecai killed his uncle here on accident by bumping into him, causing him to stumble into the ball machine.
Trivia
It serves as memorial to the famous Las Vegas Casino called, "Stardust" which has been imploded
The alley heavily resembles that of the Hollywood Star Lanes in the film The Big Lebowski.
Ad blocker interference detected!
Wikia is a free-to-use site that makes money from advertising. We have a modified experience for viewers using ad blockers

Wikia is not accessible if you've made further modifications. Remove the custom ad blocker rule(s) and the page will load as expected.