"Struck by Lightning" is the eighth episode in Season 7 (and one hundred and eighty ninth overall) of Regular Show. It first aired on September 17, 2015.
After being struck by lightning, neither Muscle Man or High Five Ghost are able to remember each other.
TBA
Characters
Edit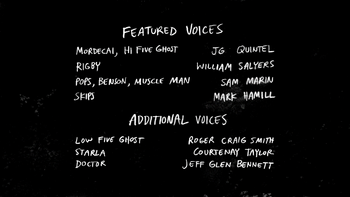 Celia (mentioned)
Dr. Matthews
In production order, this is the 200th episode.
Hi Five Ghost and Low Five Ghost's home is seen for the first time. Since Starla moved in with Muscle Man, Hi Five Ghost now lives with Low Five Ghost.
Hi Five Ghost says he takes Esperanto lessons.
Episode connections
Edit
Pop culture references
Edit
The music that was played when Muscle Man drove his car into the crash pit was Johann Sebastian Bach's "Jesu, Joy of Man's Desiring".
References
Edit
Ad blocker interference detected!
Wikia is a free-to-use site that makes money from advertising. We have a modified experience for viewers using ad blockers

Wikia is not accessible if you've made further modifications. Remove the custom ad blocker rule(s) and the page will load as expected.