"Stuck in an Elevator" is the twelfth episode in Season 8 (and two hundred and twenty-ninth overall) of Regular Show. It aired on October 7, 2016.
Mordecai and Rigby get pumped to see a rock concert on the spaceship.
TBA
Characters
Edit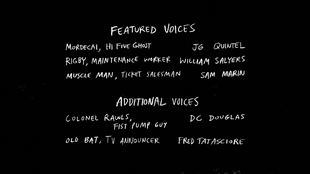 Normally, Rigby is the one to give up if they have a problem. However in this episode, Mordecai is the one that gives up after not getting a cell phone service and Rigby needs to encourage him; which is what Mordecai normally does.
Episode Connections
Edit
Cultural References
Edit
Mordecai and Rigby, frozen in carbonite is a reference to Star Wars where Han Solo was frozen in the carbonite.
References
Edit
Ad blocker interference detected!
Wikia is a free-to-use site that makes money from advertising. We have a modified experience for viewers using ad blockers

Wikia is not accessible if you've made further modifications. Remove the custom ad blocker rule(s) and the page will load as expected.