Summertime Loving, Loving in the Summer (Time)
Talk

2
1,276pages on
this wiki
To see the character click here, Summertime Song (character)
Description
Edit
Summertime Loving, Loving in the Summer (Time) is a song by Solid Bold that Rigby says he loves (or at least he used to). It is introduced in "This Is My Jam". When the duo finds a cassette tape of it while cleaning the gutters, Rigby claims "This is my jam!" Mordecai dislikes the song but agrees that he just only liked it "that one summer in junior high." Rigby bugs Mordecai to listen to the tape, and Mordecai agrees, but says the only reason why is because he wanted to take a break. They listen to the song, and get sick of it quickly. Unfortunately, however, the song gets stuck in Rigby's head, and some quite irregular events follow.
While having a dream where he throws the song, Rigby gets the cassette tape out of his head (literally) and the result is the song becoming a "Ghost Tape."
They destroy it by making a catchy song to fight against it while Pops distracts the song. They then write a catchy, repetititve song called Aw, Snap!, where they repeat the lyrics over and over. Skips then admits overhearing their plan while sitting on "the can". He brings his bass and joins them. They then go out to an open field in the Park and wait for Pops to lure the song near where the gang is. Right before they begin, Muscle Man and Hi Five Ghost come to help and play the trumpet (Muscle Man blowing and Hi Five Ghost tapping in random notes). Then as they are playing two guitar players form in the air and battle. Midway into the song, Benson sees them from his apartment and comes to play the drums, therefore defeating the song.
[Verse 1] It's Summertime and you know what that means. Gonna head down to the beach, gonna do some beachy things. It's Summertime, it feels just right. Gonna gather all my friends and we'll party through the night.
[Chorus] It's Summertime luh-uh-loving. It's loving in the Summertime. It's Summertime luh-uh-loving. Oh baby, why can't you be mine?
[Verse 2] It's Summertime and I just can't wait. Gonna call you on the phone, gonna take you on a date. It's Summertime and I hope you like steak. Gonna take you to a restaurant, and eat it at the lake.
[Chorus]
[Verse 3] It's Summertime and when dinner's done. Gonna take you to the club, gonna dance and have some fun. It's Summertime and when the end is near. Gonna put you very close. Whisper, "let's get out of here".
[Chorus]
[Repeat 'Verse 2']
[Chorus]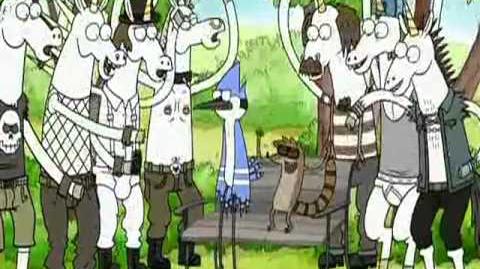 The song's name could be a reference of "Livin' in the Sunlight, Lovin' in the Moonlight" by musician Tiny Tim.