ALERT: UNOFFICIAL CONTENT
The following page you're looking at on Cartoon Network's Regular Show Wiki is part of unofficial content. This has to do with either a pilot, an earlier concept of the show, or anything else related to unofficial content. Read at your OWN risk!
This article is under the scope of the Episode Cleanup Project and has yet to be cleaned up to a higher standard of quality. It may contain errors, spelling, grammar and structure issues, or inconsistent formats. Reader's discretion is advised until fixing is done.


You can help clean up this page by correcting spelling and grammar, removing factual errors and rewriting sections to ensure they are clear and concise, and moving some elements when appropriate.

The Naive Man from Lolliland is a student short created by J.G. Quintel. Lolliland is a native place in Regular Show. Pops comes from Lolliland though he has a thick British accent. Lolliland possibly exists because Pops (Sam Marin) is a lollipop.
Plot
It starts out with Pops at a restaurant reading the newspaper, with him on the front page saying "AMBASSADOR FROM LOLLILAND VISITS THE UNITED STATES FOR THE FIRST TIME".
A waiter comes up and says he'll be back in a second and Pops starts organizing the bill with lolliland currency. He then gives the waiter his money and when the waiter looks at the lollipops, he gets mad at Pops.
Pops then argues with the waiter and manager saying that it's more than enough then tries to leave but walks into the chef who says "He's not finished talking to you yet!". Pops then gets pushed down and is told to pay up, but gets an idea. He "goes to get his billfold" and whacks the waiter on the head with a chair.
After being beaten by the manager and the chef, he then crawls out of the restaurant, gets into a taxi, and tells his taxi driver Benson, (who resembles nothing like Benson in the show) to drive him away from this horrid place (referring to the United States). The taxi then flies away into the sky, with Pops saying "Goodbye, United States. I hope one day... we can become friends," ending the film.
Character Appearances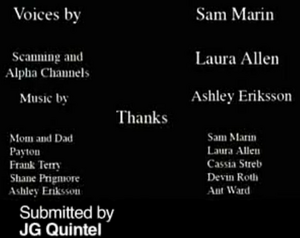 Lolliland Man (proto-Pops)
The Waiter (antagonist)
Benson (chauffeur)
The Manager (antagonist)
The Employee (antagonist)
Trivia/Goofs
This short aired on Channel Frederator, Frederator Studios' weekly cartoon podcast.
It reveals that butterscotch ripple is one of the highest currencies in Lolliland.
This is the first time Pops is seen paying for something with Lollipops, something he would do as a running gag in Regular Show.
For a few seconds after the car takes off into the air, the car is shown with no wheels, but grows them later
The car is seen disappearing, and then a set of flaming tire tracks appear in the sky. This may be a reference to the Back to the Future movies and their time-traveling DeLorean.
This is also the first time Pops is seen with a flying car. In the Regular Show, he owns two different flying cars.
Sam Marin has mentioned voicing all of the characters in this short.
This short was made available as an extra for the Regular Show Season 1 + 2 DVD and Blu-ray Disc.
Full Video