Under the Hood
Talk

0
1,273pages on
this wiki
Under the Hood is the name of the eleventh episode of season three (and fifty-first episode overall) of Regular Show. It premiered on December 12, 2011, receiving 2.324 million views.
Mordecai and Rigby must catch a vandal named "Park Avenue" after having Muscle Man wrongly accused and fired for doing the graffiti.
It begins with Benson ordering Mordecai and Rigby to clean graffiti off the wall. Muscle Man is then accused of the vandalism by the "orange paint" all over him (which is really wing sauce). Mordecai and Rigby call Benson and blame it on Muscle Man, despite his objections. Benson then fires Muscle Man, but Hi Five Ghost sacrifices his own job as well to stay with Muscle Man. Later, Mordecai and Rigby spot the real vandal, hastily covering over the duo's recent paint job, but they are unable to catch him.
They quickly run to Benson and describe the man to him, but Benson thinks they are lying because they feel bad. Mordecai and Rigby then go see Skips (who's also eating some chicken wings) and he explains that the graffiti artist is Park Avenue, a young graffiti artist who strikes without warning and vanishes with the wind, and Mordecai and Rigby are left helpless and decide they must catch the artist themselves. When Skips asks where is Muscle Man, Rigby says that Muscle Man went to live his dream---as a comedian. Muscle Man tells a "my mom" joke on stage, but instantly gets kicked off.
Meanwhile, Mordecai and Rigby begin hunting down Park Avenue, but Park Avenue keeps on disappearing when they try to catch him. Soon, the entire park is covered in Park's graffiti, and they meet up with Muscle Man who is trying to sell Hi Five Ghost's scooter for money. Mordecai and Rigby don't take it and Muscle Man begins to walk away when Mordecai asks him for the spray paint. They then use the spray paint to create a diversion, by painting themselves orange and blending in with the wall they re-painted earlier (they painted this wall orange like themselves to attract Park Avenue). Their plan works, as Park Avenue comes up to re-paint it. At that moment, Mordecai and Rigby reveal their camouflaged positions and attack Park Avenue. And when Mordecai removes his hoodie, they are both shocked to find that Park Avenue is a walking can of spray paint. Stunned by this, PA escapes by creating a portal theat he uses to travel to a place filled with his graffiti. Mordecai and Rigby chase him, and are soon attacked by Park Avenue's Graffiti Monsters. When the duo escapes, they are in a supposedly empty white room. They soon start crashing into a bunch of stuff, and Rigby angrily sprays the area around him with the paint, to reveal a TV and Futton, as well as a bunch of other furniture. as they continue to do this, Park Avenue comes up, criticizing them for painting his house, and making it into a mess. Mordecai demand that he comes back to the surface, and admits that he is responsible for the graffiti, and to stop painting the park. At first, he says no, but quickly changes his mind when Rigby starts painting the walls once more.
After Park Avenue comes back to the surface, and explains that he did the graffiti, and tells why he did it, Benson tells him that he is going to call the police for what Park Avenue did. PA then tries to escape, but gets stuck mid-way through the portal (mostly because it wasn't big enough). Benson then gives the keys back to Muscle Man and Hi Five Ghost. At first, Muscle Man said he was doing great as a comdien and Benson was impressed was about thinks Muscle Man doesn't need his old job but Muscle Man quickly told the truth and ask for his keys back, and drove away with Hi Five Ghost. Benson then tells Mordecai and Rigby that they need to clean up ALL the graffiti. As Benson walks away, Mordecai asks Rigby if he wants to get some chicken wings at Wing Kingdom, the same place Muscle Man had gotten his wings earlier in the episode.
Characters
Edit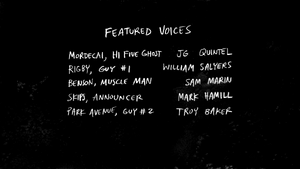 Minor Characters
Edit

The gallery for Under the Hood can be viewed here.