Pops Maellard

Name/Age

Pops Maellard/101 years old

Gender

Male

Species

Lollipop Human

Occupation

Groundskeeper

Friends

Mordecai, Rigby, Benson, Skips, Muscle Man, Hi-Five Ghost
Pages I Created
Edit
The Park (1982) (Deleted)
Hello, I am Pops Maellard. I hope you like my page. Please don't comment badly on my page. I hope you like it. Thank you.
Quartz, Parchments, Sheers
Edit
I remember that one time with Quartz, Parchments, Sheers, that I was mesmerized with Mordecai, and Rigby tying 99 times. If anyone would like to play Quartz, Parchments, Sheers, leave a messeage on my talk page, I if I respond, we can go play in chat! Thank you. I would be happy to play with anyone when I have time!
Me, and Quartz, Parchments, and Sheers

Added by

The Fallen Helel

QuartzEdit
Quartz is a kind of mineral in rocks. It also mends other rocks together. That means it is a "rock former" as I call it.
Parchment
Edit
Parchments are cow skin, made into paper for us to write on.
Sheers are commonly confuesed with scissors. They look almost like scissors, except with bigger handles.
Trivia Game
Edit
If anyone would like to play a little trivia about Regular Show with me, just leave a comment on my talk page, and I will get back to you as soon as possible. I would be happy to play with anyone when I have time!
Daily Jokes
Edit
I will have a joke for you as often I can come up with them. Check my page tomorrow for the next joke!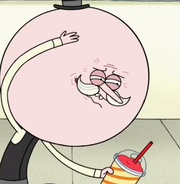 May 18th, 2012
Edit
Q: Why did the car go over the sidwwalk?
A: To hit the chicken who already safely crossed the road.
May 19th, 2012
Edit
Q:What happened to the writers of the song, "Footloose"?
A:Well, they had severel sets of feet, and the ones they had on were getting loose.
Q:What happenes to Strawberry Lollipops after they expire?
A:They become Strawberry Jam!
May 20th, 2012
Edit
Q:Do you know why I like trains?
A:Because they always "pop" their stacks!
May 27th, 2012
Edit
Q: Do you want a yellow orange?
A: Here is a lemon then.
My Currency
Edit
In Lolliland we use a different kind of currency. Even though I people don't accept lollipops in the USA, I still think they should accept my money. In Lolliand, we accept theirs.
Here is the local currency/stock standings(as of friday, May 18th, 2012)
Butterscotch- $49.16 +$.90
Strawberry-$21.47 -$.20
Watermelon-$11.01 +$.71
Cherry-$4.34 -$.03
Root Beer-$2.59 +$1.50
Spearmint-$1.07 +$.40
Some of My Friends
Edit
On the interwebs, I have a few friends. I list them here.
KillFeedz OG

My friends at the park

Added by

Miamivice
KillFeedz OG is one of my best friends on this wiki. He is a great person to talk to on chat, and can always help you when needed. Make a page, have a quick chat, or just ask him to comment on something you made, he will help you.
Sboy21 is a good friend. When you need help making a page, call on this guy to help you.
Pops16 is a great friend. Him, and I were both called fakes. We are not though. We are both Pops, and are very good at math. He lives in Poland. This Pops, is a great friend.
Rackliffelikespurple helped me create the Rock, Paper, Scissors tournament activity. Rack will definietly help anyone who needs help. His slogan, "Admins help other Admins", is true. He will help other Admins. If you are not an admin, he will still help you.