Any fan will tell you, Regular Show is far from "regular," it's downright awesome! Some pretty weird events have happened among this wacky cast of characters, but we were looking for the most oddly awesome Regular Show moments that you could think of. Whether it was one of Benson's angry freakouts, or a Hot Dog eating himself completely out of existence, we wanted to know some of the weirdest, but strangely amazing, things that YOU remembered from the series.
Check out the list below to see what fans picked out and the fun facts related to those moments!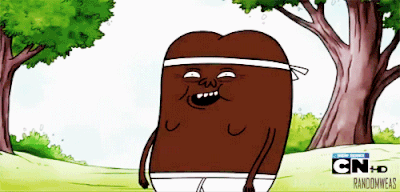 FACT: Coffee Bean first appears in the episode Caffeinated Concert Tickets. He can only say the word "coffee" and has the ability to squirt hot coffee from his nipples.
Read more >>

FACT: Apeparing in the episode Go Viral, Wedgie Ninja sacrifices himself to save Mordecai, Rigby, and Pops by giving the Warden of the Internet a wedgie, dying in the subsequent explosion. His last words to Mordecai and Rigby were "Link to my videos!"
Read more >>

FACT: After all the hype and build up of the "Every Meat Burrito," once Mordecai, Rigby, Muscle Man and Fives are finally able to try them, they are unimpressed. Rigby says it tastes like chicken.
Read more >>

FACT: The Hot Dogs' weakness ends up being mustard. When doused with this condiment, the Hot Dogs are unable to resist eating each other, and even themselves! This episode - "Meat Your Maker" is the first Regular Show episode to feature a celebrity guest-voice: actor Tim Curry.
Read more >>

FACT: At the end of this episode (The Night Owl) Muscle Man jokes that if they ever ran into copies of themselves, they could just fight them to the death, to which they all start laughing. Their past-self copies, unseen by the original four, appear horrified upon overhearing this.
Read more >>

FACT: Eileen's last name is revealed to be Roberts at the beginning of this episode (Video 101), as she wrote her signature on a test.
Read more >>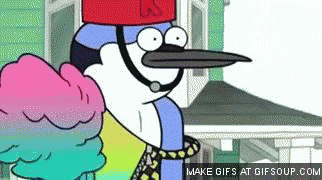 FACT: The warning label on the park uniform boxes reads "Contents of this package exceeds ugly index and should not be combined with other items of similar rating. Avert eyes!"
Read more >>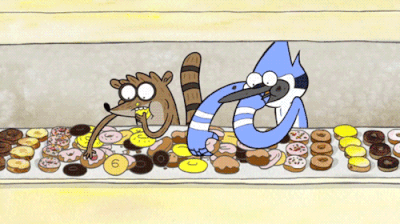 FACT: In the Regular Show universe, consuming high levels of sugar elevates the eater to increasingly higher planes of sugar - where the laws of physics are different.
Read more >>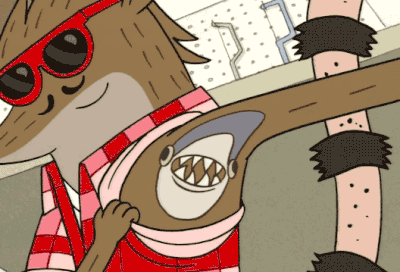 FACT: Future Mordecai might have a matching armpit shark tattoo as well although we don't get to see it in this episode.
Read more >>

FACT: Death Bear killed most of animal control, but Mordecia was able to subdue him with a tranquilizer. This character may be paying homage to the Bald Headed Killer Bear from the 1988 movie, The Great Outdoors. Like Death Bear, the Bald Headed Bear was also supposedly a myth, but eventually turned out to be real.
Read more >>
---
---
Ad blocker interference detected!
Wikia is a free-to-use site that makes money from advertising. We have a modified experience for viewers using ad blockers

Wikia is not accessible if you've made further modifications. Remove the custom ad blocker rule(s) and the page will load as expected.