Weekend at Benson's
Talk

4
1,276pages on
this wiki
Weekend at Benson's is the name of the twelfth episode of season three (and fifty-second episode overall) of Regular Show.
Mordecai and Rigby take an unconscious Benson to a party at his neighbor Audrey's apartment.
Mordecai and Rigby are changing a light bulb for a lamppost, a task that they are having difficulty with. Benson begrudgingly steps in to do it himself, in an obvious rush. The duo try to ask Benson what the rush is about, but get into an argument about who is annoying him, which causes Benson to fall off a ladder and lose consciousness. Wanting to avoid being fired, the duo place shades on Benson (to conceal his closed eyes) and drive him back to his apartment, hoping he won't remember anything that happened. They tape him around his waist to the cart after having previously fallen out, and the duo manage to pull off a conversation with Muscle Man, moving Benson's arms in respective gestures.
Right before they reach his home, Audrey, Benson's neighbor, comes out and asks Benson to come party with her. At first, the duo try to bail him out, citing fatigue as an excuse not to go. When Audrey gets disappointed, Mordecai feels guilty of ruining Benson's night and convinces Rigby that they need to bring him to the party. They just hope that when Benson wakes up, he will think that he partied too hard, and won't suspect Rigby and Mordecai. They go to the party and they still manage to conceal the fact that Benson is unconscious.
Finally, Benson and Audrey are sitting together in the party, with her being so delighted on having him over. When Mordecai notices Audrey's interest in Benson, he drops his hand to hold hers, which made her happy. Audrey's ex-boyfriend, Chuck, becomes jealous and walks up to ridicule Benson by poking him. Mordecai uses Benson's hand to slap Chuck's drink, and make it spill all over his face. Angered by this, he reveals himself as "the Iron Stomach" (hence the "FE" on his shirt from the periodic table) and challenges Benson to a spice eating contest. Benson's unconsciousness allows him to easily win against Chuck, who admits defeat. However, Chuck offers Benson a victory drink called the "Mississippi Queen," which looks particularly disgusting, made from things like leftover food. Benson smells the drink and wakes up, and Rigby and Mordecai rush him into the bathroom.
Benson at first becomes outraged at Mordecai and Rigby, almost firing them, but then less so once he finds out that Audrey is cheering him on. As a result, Benson agrees to drink the Mississippi Queen, on the condition that Mordecai and Rigby drink it too, or be fired. Surprisingly, the drink was not spicy at all, but instead caused wild hallucinations with the drink's eponymous theme playing. The next morning, the three wake up on the ground in front of the house. Benson had it with Mordecai and Rigby and decides to fire them, but when he read a note that was stuck on him, he just asks them to return to work. The note has Audrey's number written on it and asked him to call her.
Characters
Edit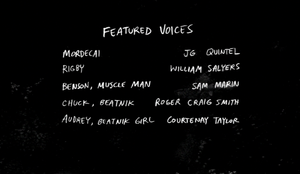 Minor Characters
Edit

The gallery for Weekend at Benson's can be viewed here.