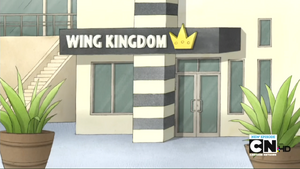 Wing Kingdom 
is a restaurant that is frequently featured in
Regular Show
.
Appearance
Edit
The exterior of Wing Kingdom is white and there is a "Wing Kingdom" sign with a crown is at the top of the door. There is a beam with black and white stripes between the door and window. The interior has many booths and tables, and the manager is located near at the entrance. There is also a restroom.                                                                    
Food/Drinks
Edit
Fried Chicken Wings (regular, spicy)
Fried Chicken
Gold-Plated Chicken
Diamond Chicken
Ice Cream Sundae
Special Sauce (also comes in diamond encrusted containers if requested)
Soda
Big 50 Special (comes crispy or crunchy)
Bank Shot: Wing Kingdom has a bank shot game that was featured in the episode of the same name.
Pool table: Wing Kingdom has a pool table where a group was playing it in "Bank Shot"
Challenges
Edit
Wing Kingdom Wing Challenge: This was a challenge first mentioned by Pops in the episode Guy's Night. Muscle Man is the only known person to complete this challenge. It can be assumed the challenge involes eating a certain large amount of chicken wings.
Episode Appearances
Edit
Season Three
Edit
Season Four
Edit
Season Five
Edit
Season Six
Edit
Season Seven
Edit
Season Eight
Edit
Ad blocker interference detected!
Wikia is a free-to-use site that makes money from advertising. We have a modified experience for viewers using ad blockers

Wikia is not accessible if you've made further modifications. Remove the custom ad blocker rule(s) and the page will load as expected.